When you're looking for the best lightweight folding tables on the market, consider the following important facts about Virco's Core-a-Gator® line.
1. The Core-a-Gator's patented extruded aluminum frame makes it superior to lightweight tables that rely on wooden inserts for structural strength.
2. Because our aluminum frame is far stronger than any wood and has better mechanical properties, it's more easily shaped into forms that match the contours of round tables.
3. The Core-a-Gator frame delivers full perimeter reinforcement, enabling round shapes to perform as well or better than rectangular tables, a claim no other manufacturer can make.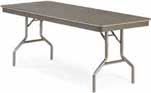 "The Core-a-Gator frame delivers full perimeter reinforcement...."
Another significant aspect of the Core-a-Gator's construction focuses on Virco's patented ABS plastic core. A lightweight table's core is especially important, since it provides the crucial bonding areas between the table's top and bottom plastic skins. When a core's bonding strength becomes insufficient, the top and bottom skins tend to delaminate - or, come unglued - resulting in a variety of potentially unpleasant consequences.
Other tables with a "latticework" core employ interior crosspieces to support their top's outer skins. Unfortunately, this type of table construction permits too many unsupported voids between cross members, as well as too few points of permanent bonding between the outer surfaces and their core.
That's why the Core-a-Gator's design is superior. Consider two more facts:
4. Virco's patented conical "honeycomb" core provides uniform support and many times more surface area for extensive, secure bonding to the top's outer skins than competing tables.
5. Experience has shown that other tables with a latticework structure tend to fail much earlier than Core-a-Gator models when subjected to repetitive loading that simulates typical field use.
Thanks to Virco's patented top design, Core-a-Gator tables have what it takes to deliver consistent, reliable performance in real-world conditions. They're perfect for use wherever folding tables are typically employed. And because they're quick and easy to use, we conclude that:
Core-a-Gators set the standard of excellence for lightweight folding tables.